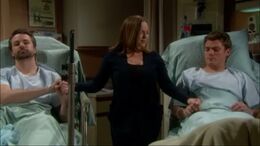 The Webster family is a fictional family from the CBS Daytime soap opera, The Young and the Restless. They are a minor family within the series most known for their connection to the Chancellor family. The family was originally represented on the series by Nina Webster, her mother, Flo, and son, Chance Chancellor. In 2010, the family was expanded with the revelation that Ronan Malloy is Nina's long lost son. Nina works as an author, while both her sons work in law enforcement.
Family Members
First Generation
Second Generation
Third Generation
Descendants
1. Flo Webster
   2. Nina Webster
      Jimmy
      3. Ronan Malloy
      Phillip Chancellor III
      3. Chance Chancellor

Ad blocker interference detected!
Wikia is a free-to-use site that makes money from advertising. We have a modified experience for viewers using ad blockers

Wikia is not accessible if you've made further modifications. Remove the custom ad blocker rule(s) and the page will load as expected.