Sheila Carter
Kimberlin Brown as Sheila Carter
The Young and the Restless
The Bold and the Beautiful
Portrayed by
Kimberlin Brown (1990-2006)
Michelle Stafford (2006-2007)
Current status
Former, regular
Duration
1990-1993, 2005-2006
First appearance
May 1990
Last appearance
February 9, 2007
Created by
William J. Bell
Introduced by
Edward J. Scott (1990)
Profile
Family
Carter
Alias(es)
Brenda Harris
Jennifer Mitchell
Phyllis Summers
Gender
Female
Born
1956
Age
61
Occupation
Nurse at Genoa City Memorial
Waitress
Residence
Genoa City, Wisconsin
Los Angeles, California
Michelle Stafford as Sheila Carter
Sheila Carter (formerly Grainger, Forrester, and Warwick) is a fictional character who appeared on both The Young and the Restless and The Bold and the Beautiful.
Kimberlin Brown played the character on The Young and the Restless from May 1990 to May 20, 1992 (returning for a handful of episodes in 1993, 1994 and 1995) and from August 5, 2005 to January 11, 2006; and on The Bold and the Beautiful from May 21, 1992 to October 2, 1998, with appearances from May 24, 2002 to November 5, 2002, and a two-week appearance from September 26 to October 10, 2003. Michelle Stafford (who also plays Phyllis Summers on The Young and the Restless) took over the role of Sheila from December 28, 2006 to February 9, 2007.
A significant portion of Sheila's history on both series revolves around her long-running conflict with businesswoman Lauren Fenmore Baldwin, whom she has attempted to kill on multiple occasions Sheila is one of the only characters to cross over in the bold and the beautiful along as the young and the restless! .
Character background
The Young and the Restless
Originally from Michigan, Sheila moves to Wisconsin in 1990. Sheila is a nurse who worked at Genoa City Memorial Hospital and immediately falls in love with the married Dr. Scott Grainger (Peter Barton). Her feelings for Scott quickly turn from infatuation to obsession. In order to steal him away from his wife Lauren Fenmore (Tracey E. Bregman), Sheila drugs him and has sex with him, ending up pregnant. At the same time Lauren also becomes pregnant by Scott but doesn't tell him. When the truth about the father of Sheila's baby comes out, Scott feels obligated, divorces Lauren and marries Sheila.
Sheila's baby dies, unbeknownst to Scott, and she secretly switches Lauren's newborn with a black market baby, which Lauren names Dylan. Sheila begins passing Lauren's baby off as her own, and Dylan eventually dies from meningitis. Sheila's mother, Molly Carter (Marilyn Alex), finds out about her daughter's crime and intends to tell Lauren the truth, but suffers a stroke that renders her speechless. Sheila sends her mother to her farmhouse in Michigan before Molly can expose her. Lauren eventually finds out about the baby switch, but not before Sheila kidnaps both Lauren and Molly, and almost succeeds in killing both women, when during a brief struggle Lauren accidentally kicks over a lantern on a coffee table, setting the farmhouse they are imprisoned in on fire. Lauren and Molly are rescued by Lauren's ex-husband, private investigator Paul Williams (Doug Davidson), and his secretary, Lynne Bassett (Laura Bryan Birn). Sheila is never found, and authorities presume that she perished in the fire when a body burned beyond recognition turns up in the ashes. The corpse turns out to be a meter man that had visited the house just before the fire started; Sheila had escaped from the burning building. Picking up a discarded newspaper in an area diner, she reads about an opening working as a company nurse for the Forresters in Los Angeles. She leaves Wisconsin to travel to California. Meanwhile, Lauren is reunited with Scott and her real son, Scott Jr.
The Bold and the Beautiful
Sheila manages to worm her way into the nurse job and as a nanny for Eric Forrester (mostly by injuring the old nurse). Eric and Sheila fall in love, but there's trouble when Eric's recent ex, Brooke Logan Forrester, may be expecting his child. When baby Bridget is born, Sheila messes with the DNA results. A security guards sees her and tries to blackmail her, but Sheila sends an angry dog to maul him. Lauren learns that Sheila is alive and well, and goes to Los Angeles to confront her. Sheila responds by blackmailing Lauren with pictures of her sleeping with Brad Carlton.
Despite Sheila's love for Eric, she panics when Lauren tries to reveal her past at their wedding, so she leaves Eric at the alter. After the guests all leave Sheila begs for his forgiveness, and they soon marry. Sheila and Brooke become best friends, and Sheila agrees to help Brooke take over Forrester. This causes trouble with Sheila's marriage, and she and Eric go to an island to reconnect. Lauren and Scott show up. Lauren plans on Scott revealing Sheila's past there, but Scott, who still cares about Sheila, keeps quiet.
Scott's illness kills him on the island, and on his deathbed, he tells Lauren to give Sheila a second chance. A tearful Lauren agrees. Sheila and Eric divorce when Sheila sleeps with another man, and tells Eric that she's expecting his baby. Eric had just had a vasectomy. Sheila sees a psychiatrist. James Warwick tries to pry information from him, but Sheila accidentally kills the psychiatrist. Lauren tells James everything. Sheila tries to drown Lauren, then kidnaps James, Lauren, Eric, Stephanie, Brooke, and Ridge.
She explains that they all wronged her, except for Brooke. Brooke tells Sheila that the Forresters are her family. Sheila decides not to kill them, and then quickly drinks some poison. Sheila survives and is sent to a mental institution. She isn't there long, despite Stephanie's attempts to keep her there. Sheila tries to revive her friendship with Brooke, but fails. Sheila becomes close with James. Sheila finds that she's pregnant after a night with James. They decide that Sheila will give the baby to James and his wife, Maggie, to raise.
After Sheila gives them little Mary, she goes to Death Valley, where she meets a teenager named Amber Moore. She hires Amber to babysit Mary so Sheila can spend time with her. Amber does this for a short time, but exposes herself quickly. Sheila takes Mary back. James plans to marry Sheila so he can have full custody of baby Mary. When Sheila figures this out, she tries to kill herself again. James manages to rescue her, but Sheila ends up in the hospital. Maggie tries to kill her, but is arrested. Maggie teams up with Lauren and the nanny Sheila injured to make Sheila think that she's insane.
Their plan fails and Maggie leaves town. Sheila then tries to drown Stephanie, and then threatens her with her grandson's life. Sheila is arrested but escapes. She shoots Stephanie, attacks Amber, grabs Mary, and escapes.
Sheila returns four year later with teenager Mary, whom Sheila renamed Erica Lovejoy. Erica is unaware of who she really is, or her mother's past. Sheila plans to get Erica with Eric's son, Rick. Rick is married to Amber, so she drugs Amber and makes her think that she cheated on Rick with a man named Lance. Lance decides he wants to tell Amber, so Sheila kills him. Erica learns the truth about herself, and Sheila pushes her to have sex with Rick, so she can live as a wealthy Forrester through her daughter. Just as Erica is about to do as her mother says, Sheila kidnaps Amber.
Stephanie and Massimo track them down. Sheila then holds Stephanie and Taylor Hayes hostage. Brooke walks in, and a struggle ensues. Brooke and Taylor get shot, and Taylor dies. Sheila's arrested, but the warden gets her out.
In 2003, Sheila returns to kidnap Nick, Ridge, and Brooke. Massimo comes to pay the ransom, and Sheila introduces him to baby Diana. Diana was supposedly his child. Massimo tries to get Sheila to hand the baby over to him, but she escapes with the baby.
The Young and the Restless
Sheila returned to Genoa City in 2005 to torture Lauren through the now grown up Scotty but it didn't work. She teamed up with
Tom Fisher
and gave Lauren a poisoned necklace. She tried to get Lauren to commit suicide while she was on the poison, but
Michael Baldwin
saved her. Sheila injected Lauren with more poison in the hospital.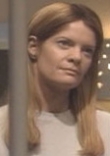 Sheila convinced Tom to kidnap Lauren from a yacht while Lauren was on her honeymoon with Michael. While Tom was in the process of kidnapping Lauren, Sheila blew up the yacht hoping to murder both of them.
Sheila was later trapped in a bomb shelter when Tom turned on her and left. Lauren convinced Tom that Sheila was the bad guy, so he contacted Gloria to arrange a deal to turn over Lauren. John Abbott overheard the phone call, grabbed his gun, and met Tom in an alley instead. During a struggle the gun went off, and Tom was killed. John dropped the gun and took off getting into a car accident, but Ashley Abbott arrived in time to witness it. Ashley confessed to the shooting and was arrested with Michael as her lawyer.
Meanwhile Lauren and Sheila fought and Lauren broke Sheila's ankle. Eventually, realizing Tom was not coming back, they joined forces attempting to escape. As they were almost out, Paul Williams arrived and pulled Lauren to safety while the shelter caved in on Sheila. Sheila was not found in the rubble, but was later seen at a plastic surgeon wanting a new face.
In 2006, it was revealed that Paul was keeping a woman who was apparently Sheila (having had plastic surgery to look like Lauren's best friend Phyllis Summers) prisoner in a cage to protect Lauren's infant son, Fenmore Baldwin. Maggie Sullivan, Paul's partner, was unaware of what Paul was doing and freed 'Sheila'. 'Sheila' strangled Maggie until she was unconscious, trapped her in the cage and used her as bait to get Paul into the cage. When Paul came down, she captured him and then shot Maggie. 'Sheila' went to Phyllis' house and overpowered her.
She lured an unsuspecting Lauren and baby Fen over, subdued Lauren and took Phyllis, Fen, and Phyllis's baby, Summer Newman, hostage. They were taken to an elderly home. Lauren tracked them down with a gun and couldn't tell which is the real Phyllis. 'Sheila' used Summer as a shield and, knowing Phyllis would never do that, Lauren shot and killed 'Sheila'.
In 2010 it was claimed that Sheila had two more kids --twins, in fact. A woman claiming to be Sheila's sister gave up Ryder Callahan and Daisy Sanders so she could torture Lauren. They were raised by their aunt, Sarah Smythe. Sarah and Daisy went after Lauren in revenge for killing Sheila and Lauren ended up killing Sarah in a similar way that she had killed Sheila.
Family
Ad blocker interference detected!
Wikia is a free-to-use site that makes money from advertising. We have a modified experience for viewers using ad blockers

Wikia is not accessible if you've made further modifications. Remove the custom ad blocker rule(s) and the page will load as expected.