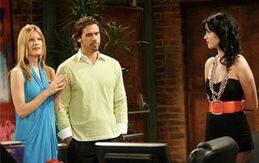 Restless Style
was a magazine published in
Genoa City
.
Profile
Restless Style was an Internet & print magazine started by Phyllis Summers, Jack Abbott, Sharon Newman and Nicholas Newman.
It became a booming success. It was originally a fashion magazine that hardly went through any scandal. The venture resulted in fights among the foursome and embarrassing stories about various people in town. Nick bought out Jack's share of Restless Style after receiving a line of credit from his father Victor Newman.
In 2009, Phyllis hired Mary Jane Benson, unaware that she was really Patty Williams in disguise. Patty was obessed with Jack and when she saw Phyllis and Jack having sex, she poisioned Phyllis's young daughter, Summer Newman, in the Restless Style building. Summer nearly died. After this, Phyllis couldn't bear to hang on to the magazine and she sold it to Billy Abbott, Jack's younger brother. Billy wanted revenge against Victor for the death of his neice, Colleen Carlton, so he changed the magazine dramatically from a fashion magazine to a gossip rag. Billy ran a cover story telling the story of the death of Colleen and how her killer (Victor, in Billy's opinion) took her heart.
Billy took a break from trashing the Newman family was when his girlfriend, Mackenzie Browning, wanted him to do a charity story for Christmas, but according to Restless Style employee, Chloe Mitchell, it was the worst issue ever. Billy halted bashing the Newmans again once he started dating and later married Victoria Newman. However, he has found himself in conflict with one of the magazine's original co-founders Nicholas Newman, even once getting punched in the face by Nick for firing Phyllis over stories he had published about her past.
Billy has since expanded Restless Style to include a TV channel called "Restless Style TV".
Staff
Employess and Roles
Former Employees and Roles
External Link