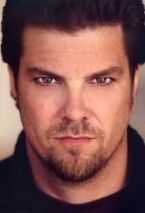 Nicholas "Nick" Reed
was portrayed by Scott Anthony Leet and formerly by Quinn Redeker.
Biography
Edit
Nick Reed was the father of two daughters: Casey and Nikki.
In 1979, after Nikki and Casey's mother was killed in a car crash, Nick returned to Genoa City. Seeing her father again, Casey remembered a traumatic incident that had been buried deep in her subconscious. When she was a child, Nick raped her. Casey was promiscuous and infamously distrustful of men as a result. When Casey, accompanied by her friend, Brock Reynolds, went to confront Nick, he was in the process of trying to rape Nikki. During Nikki's struggle to defend herself, she accidentally killed their father by hitting him over the head with a lamp. She was acquitted.
In 2004, Nikki began having strange flashes of childhood memories upon visiting the Rec Center where her abusive father Nick used to work when it was a paint factory. The flashes escalated after the skeleton of a child was found when the Rec Center broke ground for a pool. With Paul Williams' investigative help, Nikki recalled herself at five years old and her best friend Joshua Cassen fighting over her father's gun, the gun going off, and Joshua being shot. Apparently Nick had buried the body behind the paint factory, and Nikki had blocked out the memory all those years until the skeleton was found.
Relationships
Edit
Grandchildren & Great-Grandchildren
Edit