Ad blocker interference detected!
Wikia is a free-to-use site that makes money from advertising. We have a modified experience for viewers using ad blockers

Wikia is not accessible if you've made further modifications. Remove the custom ad blocker rule(s) and the page will load as expected.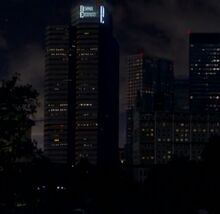 Newman Enterprises was a company founded by Victor Newman, after he left Chancellor Industries. The corporation was a worldwide conglomerate with three main divisions, includign Newman Cosmetics, a real estate division, and a venture capital division.
When Sharon Newman assumed control of Newman Enterprises, she crashed the company, forcing Victor sell off shares of the company. Jack Abbott bought most of the shares and assumed control of the company, but he was eventually forced to give it up and left Adam Newman in charge. Adam and Victor formed a partnership and, with Jack's help anonymously, brought back all of the shares, and Newman Enterprises was once again privately owned. Katherine Chancellor left her company to Victor in her will an he merged them both, creating Newman-Chancellor.
Newman Enterprises offices were located in the Newman Towers in the heart of Genoa City. The tower was also home to NVP Retreats.
In 2015, due to the Paragon project, Newman Enterprises was sabotaged and destroyed beyond repair.
In 2016, Victor Newman was voted out as CEO from a vote from the board of directors.
In July 2016, after his release from prison, Victor Newman returned to his occupation as Chairman of the Board of Directors and reclaimed the position of CEO, ousting his daughter, Victoria from it quickly.
Stub templates just show off a wiki's flaws. Instead of using a stub template, make the page better by expanding it! .
Divisions
Edit
Newman Cosmetics
Newman Real Estate
Newman Venture Capitals
Newman Fashion Lines
Chelsea 2.0.
Personnel
Edit
Victor Newman (Founder; Chief Executive Officer (CEO); Chairman of the Board)
Nikki Newman (Executive)
Victoria Newman (Member of the Board of Directors; Former Chief Executive Officer (CEO); Former Chief Operating Officer, and President of Brash & Sassy; worked in the mailroom)
Nicholas Newman (Shareholder; Member of the Board of Directors; Former Chief Operating Officer, Co-Chief Executive Officer and Executive)
Adam Newman (Co-Chief Executive Officer and Member of the Board of Directors; Former Junior Vice President and Executive)
Abby Newman

 (Chief Operating Officer, Shareholder, and Member of the Board of Directors)

Chelsea Newman (Executive; In charge of Chelsea 2.0)
Noah Newman (Intern)
Connie Wayne (Victor's secretary)
Luca Santori (Shareholder; Executive)
Marisa Sierras (Executive)
Linda Helgeson (Member of the Board of Directors)
Curtis Fielding (Member of the Board of Directors)
Former Personal
Edit