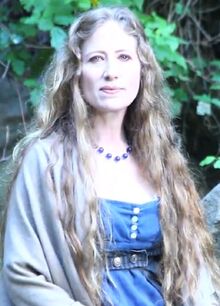 Lisa Mansfield was portrayed by Lynne Harbaugh.
Biography
In 1982, Brad Carlton was working as a gardener for the wealthy Mansfield family. He married their 16-year old daughter, Lisa. Her father disapproved.
In 1983, Lisa's father paid Brad a large sum of money to leave Lisa one year after they were married. Brad did it and moved to Genoa City. Lisa's father had the marriage annulled.
In 1988, Lisa resurfaced in Brad's life. Brad was then married to Traci Abbott who was pregnant. Lisa offered Brad a lucrative job in Chicago. When Brad declined and instead accepted a job offer from his ex, Lauren Fenmore, Lisa became obsessed with Brad, drugged and kidnapped him. Lisa held Brad captive in a cage in a deserted mountain cabin for several weeks. Brad was in grave peril. He was in Lisa's cage in a country house far removed from potential prying eyes.
He then realized he needed to be nicer to Lisa especially after her bone-chilling threat to burn down the house he was in.
In early 1989, Lauren was on a ski trip with Jack Abbott and spotted Lisa. Suspecting that Lisa was somehow linked to Brad's mysterious disappearance, Lauren followed her back to the cabin where she was holding Brad. Lisa spotted Lauren and threw her into the cage with Brad intending to gas and kill them both. Fortunately, Jack had tracked Lauren to the cabin and rescued them. Lisa escaped and has not been seen since.
Relationships
Marriage
Ad blocker interference detected!
Wikia is a free-to-use site that makes money from advertising. We have a modified experience for viewers using ad blockers

Wikia is not accessible if you've made further modifications. Remove the custom ad blocker rule(s) and the page will load as expected.