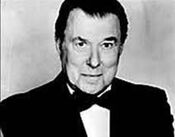 Colonel Douglas Austin
(also called
The Colonel
) was portrayed by Michael Evans.
Biography
Douglas Austin was a former con man.
In 1980, Douglas was a loyal friend to Victor Newman, Nikki Newman and Katherine Chancellor.
In 1984, Victor realized that Eve Howard had tried to poison him so that her son, Charles, could inherit half his wealth. With the help of Julia Newman and his friend, Douglas, Victor began a scheme to trap Eve into confessing and even proposed to her which the greedy Eve quickly accepted.
In 1985, he met, fell in love with and married Boobsie Caswell Austin. They later divorced. Katherine seduced and married Derek Thurston in an act of revenge on Jill Foster who had met and fallen in love with him while working at The Golden Comb. Derek's ex-spouse soon turned up and they devised a plan to drive Katherine mental and thereby end up with her fortune. It seemed to work, and Katherine was committed to a psycho ward. Later, in an attempt by Derek to hang on to his job at Chancellor Industries, he arranged a second honeymoon aboard a yacht.
Katherine, realizing that her marriage was a sham, jumped overboard and wound up building a relationship with the man who found her - Felipe Ramirez. She almost died, but was rescued and brought back to Genoa City by Douglas.
In 1992, with the help of long-time admirer and friend of Victor, Douglas, Leanna Love created the "I Hate Men Campaign" rallying wronged women everywhere.
In 1993, Douglas questioned Victor's mood and insinuated that Victor felt uncomfortable now that both Ashley Abbott and Nikki had moved on with their lives without him.
At one point, Douglas had a romance with Katherine.
In 1995, Douglas left town.
In December 2011 it was revealed that Douglas had died when Nikki Newman's guardian angel told Nikki that she had been sent by Douglas and John Abbott.
Relationships
Marriage