Charlie Ashby
Noah Alexander Gerry as Charlie Ashby
The Young and the Restless
Portrayed by
Parker Rose Curry (2010-12)
Aidan Clark (2013—16) [1]
Brandin Stennis (2016-2017)
Noah Alexander Gerry (2017-)
Current status
Present, recurring
Duration
2010—
First appearance
June 25, 2010
Introduced by
Maria Arena Bell
Profile
Family
Ashby, Winters
Full name
Charles Ethan Ashby
Nickname(s)
Charlie
Namesake(s)
Cane Ashby
Gender
Male
Born
June 25, 2001
Age
16
Aidan Clark as Charlie Ashby
Parker Curry as Charlie Ashby
Charles "Charlie" Ethan Ashby is a fictional character on The Young and the Restless, portrayed by Aidan Clark from 2013~2016, Brandin Stennis 2016-2017, and Noah Alexander Gerry in 2017.
Biography
Charlie is the son of Lily Winters and Cane Ashby. He has a twin sister named Mattie Ashby. 
Lily was diagnosed with ovarian cancer but refused surgery because it would mean that she wouldn't be able to have kids. Her aunt, Olivia "Liv" Winters, made sure that two eggs were harvested before her hysterectomy surgery. Lily decided that she wanted kids although she still had cancer, and her friend Mackenzie Browning offered to be a surrogate mother. The eggs fertilized with Cane's sperm were put into Mac and she became pregnant with twins.
But Lily was dying and Cane could have been deported to Australia any minute. Liv suggested that Lily use the baby's stem cells to make her better, but both Lily and Mac decided against it because it could hurt the babies. Lily got weaker and Cane sued Mac for the stem cells but then decided to drop the case. However, the stress of it all caused Mac to go into early labor. The babies, named Charlie and Matilda, were born small but healthy and the umbilical cord blood was used to strenghthen Lily enough for another round of chemo.
Video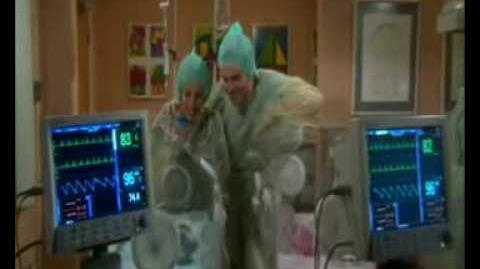 Gallery
Cite error: <ref> tags exist, but no <references/> tag was found
Ad blocker interference detected!
Wikia is a free-to-use site that makes money from advertising. We have a modified experience for viewers using ad blockers

Wikia is not accessible if you've made further modifications. Remove the custom ad blocker rule(s) and the page will load as expected.