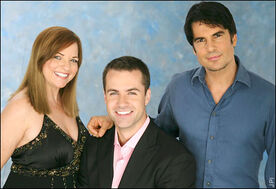 The Chancellor family is a fictional family from the CBS Daytime soap opera, The Young and the Restless. They are a core family within the series largely known for their business, Chancellor Industries. Genoa City was founded by Civil War hero, Garfield Dandridge Chancellor, the great, great grandfather of Phillip Chancellor II.
The Chancellors are also known for the longtime feud between former matriarch Katherine Chancellor and Jill Abbott Atkinson (Jill Foster) over Katherine's second husband, Phillip Chancellor II. The feud lasted for years, even after Phillip's untimely death in 1975, and was a main recurring plot of the series until the women finally made peace. Jill ended giving birth to Phillip's one and only child, Phillip Chancellor III.
Their family home is the Chancellor Estate, located at 12 Foothill Rd, Genoa City, Wisconsin. The Chancellors are a very blended family and Katherine's children, while not blood related to the original Chancellors, are also considered family.
Family Members
Family members currently on the show are represented in bold. Spouses are in italics.
First Generation
Second Generation
Third Generation
Fourth Generation
Fifth Generation
Descendants
1. Phillip Chancellor I (deceased)
   2. Phillip Chancellor II (deceased) 
      Jill Abbott Fenmore
      3. Phillip Chancellor III
         Nina Webster
         4. Chance Chancellor
      Katherine Chancellor (deceased)
      Gary Reynolds (deceased) 
      3. Brock Reynolds
         4. Mackenzie Browning
            J.T. Hellstrom
            5. Dylan Hellstrom  
      Arthur Hendricks
      3. Tucker McCall
         Yolanda Hamilton
         4. Devon Hamilton