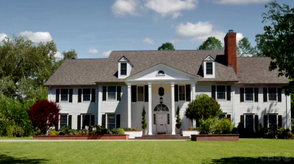 Built by Gary Reynolds many years ago (approx. late 1940s) during his marriage to Katherine Chancellor. The Duchess later inheirited the opulent home after Gary died and rechristened it the Chancellor Estate when she married wealthy industrialist Phillip Chancellor II. Known for breathtaking gardens and society functions held there, the residence at 12 Foothill Road was home the Grande Dame's assorted beloved family, friends, and unwelcome dwellers including Patrick Murphy, Jill Abbott, Esther Valentine, Chloe Mitchell, Delia Abbott and Nina Webster.
Over the years, the Chancellor Estate has been the backdrop for Billy Abbott and Chloe's comedic nuptials, Katherine stabbing Suzanne Lynch, Jill and Phillip II making love, Drucilla Barber and Neil Winters' first wedding, Norman Peterson shooting Rex Sterling, Kay collasping from a stroke, scheming Jill revealing she owned the estate in the presence of all of Genoa City during a ball Katherine was hosting, etc.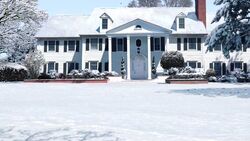 In late 2012, Katherine came out of retirement to run Chancellor when Neil took the CEO position at Jabot. Around the same time, Jill returned to Genoa City after spending months in Sydney and insisted on assisting Katherine at CI as co-CEO. Things between the frenemies were fine until La Chancellor started having memory lapses. Cane did his best to assist Mrs. C, but became increasingly worried about her health. Also helping Katherine keep her medical issues a secret from the family was her new personal assistant, Adriana Stone, whom Jill distrusted with a passion. Finally, after weeks of thinking she may have Alzheimer's Disease, Kay went to the doctor and was diagnosed with a brain tumor. She survived the risky surgery to remove them, placed Cane in charge of her company, and sighed with relief when she learned the tumors were benign.
Katherine ascended the staircase of the Chancellor Estate one final time on May 3, 2013 as the character's portrayer, Jeanne Cooper, passed away on May 8, 2013 at age 84.
Ad blocker interference detected!
Wikia is a free-to-use site that makes money from advertising. We have a modified experience for viewers using ad blockers

Wikia is not accessible if you've made further modifications. Remove the custom ad blocker rule(s) and the page will load as expected.