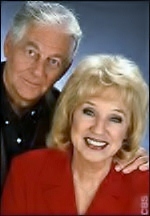 Carl Williams
(also known as
Jim Bradley
) was portrayed by Brett Hadley.
Biography
Carl Williams was the husband of Mary Williams. They had four children (now grown): Steven Williams, Paul Williams, Todd Williams and Patty Williams. While Steve and Todd went on to make Mary and Carl proud, their daughter Patty and son Paul were a handful for them both!
Carl was a detective with the Genoa City Police Department. Carl got Paul involved in law enforcement as a police officer. This ultimately made a difference in Paul's life. Sven Petersen, Jill Abbott's former masseur, shot and later kidnapped her.
Jack Abbott and lawman Carl rescued Jill. Mary's biggest heartache would come after Carl seemed to fall off the face of the Earth. Carl just disappeared after work one day. For eight long years, Mary grieved for her missing husband. She finally accepted Carl as never returning and allowed herself to fall in love again with Charlie Ottwell. Just when Charlie asked for her hand in marriage, Christine Blair ran into a man named Jim Bradley with the face of Carl Williams!
After convincing him to return to Genoa City, Mary learned that Carl had been beaten to near death and was a victim of amnesia. Although he tried, Jim never remembered being Carl Williams or the family that he left behind, forcing Mary to once again mourn his loss. Jim left Genoa City to resume the life he had made with Ruth Anne Perkins. Paul named his son Ricardo Carl Williams to honor his dad.
Relationships
Marriage
Children
Grandchildren
Ad blocker interference detected!
Wikia is a free-to-use site that makes money from advertising. We have a modified experience for viewers using ad blockers

Wikia is not accessible if you've made further modifications. Remove the custom ad blocker rule(s) and the page will load as expected.