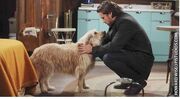 Bugatti, formerly known as Dash, is a blonde shaggy dog who was first seen as a puppy at the fatal hit-and-run accident of Delia Abbott; unintentionally committed by Adam Newman.
Storylines
Bugatti, originally named "Dash", was just a puppy when he was involved in a fatal accident. His first owner, Delia, was killed in a hit-and-run by Adam, who is presumed to be dead and shunned by most of the town, at some point after Delia's death, Dash somehow ended up in the ownership of Sage Warner, and was renamed Bugatti. Bugatti returns as an adult in 2014 to meet Nick Newman in a cabin in the woods as Nick was chopping wood, drunk, and grieving over all the mistakes that he's made with the women in his life, thanks to his previous fiance, Sharon Newman, switching his daughter Summer's, paternity test to convince everybody she was Jack Abbott's daughter. Nick had a guys only night with Bugatti as his companion. Bugatti turned out to be Constance Bingham's dog, a wealthy elderly woman who was fooled into believing Adam Newman, who got plastic surgery to look like Gabriel Bingham, was her grandson, thanks to the deception of her caretaker Sage. Bugatti sensed that Adam is not Gabriel and growled angrily at him. Constance was confused because Bugatti always loved "Gabriel".
When Nick's leg is caught in a bear trap, Bugatti comforts him and runs to Sage to bark for help. Sage and Adam follow Bugatti into the woods and find Nick injured and delirious. Sage calls 911 and Nick is rescued. Adam is furious and accuses Bugatti of trying to expose his true identity to his half-brother.
Gallery
Ad blocker interference detected!
Wikia is a free-to-use site that makes money from advertising. We have a modified experience for viewers using ad blockers

Wikia is not accessible if you've made further modifications. Remove the custom ad blocker rule(s) and the page will load as expected.