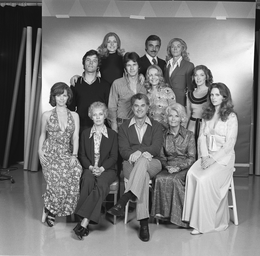 The Brooks family is a former fictional family from the CBS Daytime soap opera, The Young and the Restless. The Brooks were one of the series original core families along with the Foster family. The Brooks were the wealthy upper-class family in direct contrast with the Fosters, who were poor. The class conflict between these two families was one of the main themes of the series in the 1970s.
Family Members
Spouses are represented in italics.
First Generation
Second Generation
Third Generation
Descendants
1. Stuart Brooks (deceased) 
   Jennifer Brooks (deceased) 
   2. Leslie Brooks
      Lance Prentiss
      3. Brooks Prentiss
   2. Lorie Brooks (legal) 
   2. Chris Brooks
      Snapper Foster
      3. Jennifer Foster
   2. Peggy Brooks

Ad blocker interference detected!
Wikia is a free-to-use site that makes money from advertising. We have a modified experience for viewers using ad blockers

Wikia is not accessible if you've made further modifications. Remove the custom ad blocker rule(s) and the page will load as expected.