This article is incomplete. Please edit this page and help bring it up to standards.
Reason: Needs updated storyline information. You can help!
Please remove this template once this article is no longer incomplete.
Billy and Chloe
The Young and the Restless
Current status
Divorced
Duration
Pre-2008, 2008-09
Introduced by
Maria Arena Bell
Josh Griffith
Profile
Family
Abbott, Valentine
Alias(es)
Chilly
Billy Abbott and Chloe Mitchell are fictional characters and a couple from the CBS Daytime soap opera, The Young and the Restless. Billy Abbott is the son of wealthy businessman, John Abbott and Fenmore heiress, Jill Abbott Fenmore. Chloe Mitchell is the daughter of the loyal Chancellor family maid, Esther Valentine and a man named Tiny, who worked as a plumber. Billy was portrayed by Burgess Jenkins, David Tom, and Billy Miller, and Chloe was portrayed by Elizabeth Hendrickson from 2008 to 2014.
Storylines
Chloe and Billy met in New York but it just didn't work out. Chloe came to Genoa City, where she learned that she was pregnant with Billy's child. Chloe tricked Billy's brother, Cane Ashby, into thinking he was father because the DNA matched. Billy came to town later on and figured out that Chloe's baby was his, but he agreed to keep quiet about it.
Chloe followed Billy and Lily Winters to Billy's family cabin. She went into early labor and since they were unable to leave due to a blizzard, Billy delivered their little girl in the cabin. While holding her, Billy fell in love with his daughter, but Cane ran in moments later and took her from Billy. Chloe then fainted and they rushed her to the hospital. She had to have surgery, and mumbled Billy's name during the operation. Meanwhile, Billy was watching Cane act like a father to his little girl. Cane named her Cordelia Katherine Valentine Ashby. A little while later, Chloe decided to tell Cane the truth about baby Delia's paternity. Cane exploded and decided to sue for custody of the baby he still considered his. Billy and Chloe, desperate to keep their baby, got married. Their wedding turned out to be a disaster, as there was a cake fight and Billy's old flame, Mackenzie Browning, came in seconds after Billy said I do.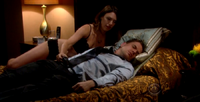 Cane ended up dropping the suit and Billy and Chloe were stuck in a loveless marriage (Chloe loved Billy; Billy loved Mac). Chloe soon learned that Billy slept with Sharon Newman the night before their wedding, so left him. Later on, Billy cheated on her with Mac. They decided to divorce and share custody of Delia.
After Delia tragically died in a Hit and Run accident, Chloe became mentally unstable and obsessed with creating another "Delia" with Billy. She tried unsuccessfully to drug and seduce Billy, and eventually stole a sample of his sperm from the Hospital and left town.
See also