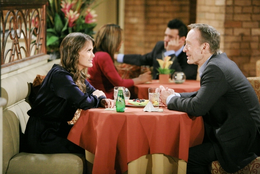 The Bardwell family is a fictional family from CBS Daytime soap opera, The Young and the Restless. They are a minor family within the series. The Bardwells are known for the scheming and coning ways of patriarch, Jeffrey Bardwell. Jeffrey has been involved in many schemes throughout the show's narrative. The family is currently represented by Jeffrey, his daughter, Chelsea Lawson and grandsons, Johnny Abbott and Connor Newman. Chelsea, a former con-artist herself, is now a renowned fashion designer, known for her collaborative work with Jabot and The Bold and the Beautiful's Forrester Creations.
Family Members
Family members currently on the show are represented in bold. Spouses are in italics.
First Generation
Second Generation
Third Generation
Descendants
1. William Bardwell (deceased)
1. Jeffrey Bardwell
   Anita Lawson
   2. Chelsea Lawson
      Billy Abbott
      3. Johnny Abbott
      Adam Newman
      3. Riley Newman (deceased)
      3. Connor Newman

Ad blocker interference detected!
Wikia is a free-to-use site that makes money from advertising. We have a modified experience for viewers using ad blockers

Wikia is not accessible if you've made further modifications. Remove the custom ad blocker rule(s) and the page will load as expected.