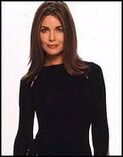 Anita Hodges
was portrayed by Mitzi Kapture-Donahue.
Biography
Edit
Anita Hodges was the mother of Brittany Hodges.
In 2002, JT Hellstrom's friend Brittany feared she was pregnant and disappeared. Because he was such a close friend to Brittany, her parents, Anita and Frederick Hodges, came to J.T. for help. Just when JT appeared to have changed, he was lured into an affair with Anita! J.T. was with having breakfast discussing Brittany at The Lodge, where Anita had taken a room after Fred didn't come home the night before. They caught Fred coming down the stairs after spending the night there with Jill Abbott. J.T. helped the distraught Anita upstairs to her room, where she seduced him. J.T. was wracked with guilt over what they did, and confided in his boss and confidant, Lauren Fenmore. Colleen Carlton found out about J.T.'s affair with Anita and broke up with him.
Relationships
Edit
Grandchildren
Edit