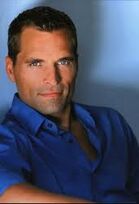 Andrew Gibson
was portrayed by Will Schaub.
Biography
Andrew Gibson was the husband and widower of Emma Gibson. Emma was believed to have died from contaminated face cream from Jabot Cosmetics.
In 2006, Gloria Fisher contaminated some face cream at Jabot so that she could sweep in and save the day. Unfortunately, the contaminated cream was released to the public, sold by Fenmore's Boutique and purchased by Emma who subsequently died. Once Gloria's plot was revealed, she was arrested and sent to jail for murder. Gloria Fisher learned that Andrew was trying to get the death penalty reinstated for her trial. Gloria was released from custody.
Gloria had to contend with seeing Andrew, the widower of Emma, who had been suspected of dying due to the contaminated face cream that with which Gloria messed around. Gloria orchestrated Jack Abbott's permanent ejection from Jabot through Andrew. Michael Baldwin met with Andrew and his lawyer, and handed him Jabot's offer for a settlement explaining that the offer was very generous, but signing it meant that Andrew absolved Jabot of any wrongdoing in Emma's death. Due to her advice, Gibson demanded that one of the conditions of his settlement agreement was that Jack was to have absolutely no part in Jabot ever again.
Michael informed Jack and Ashley Abbott that Andrew had filed a civil suit against Jabot. Jack told Gloria that the Andrew Gibson lawsuit was a scam and he was ready to take the reins of Jabot again. Jack went to see his father, John Abbott, in prison, explaining his strategy for dealing with Gibson's lawsuit.
Michael informed Jack that Andrew didn't sign the settlement because he believed that Jabot caused his wife's death. After talking to Ashley, Paul Williams had a conversation with Jack. Paul wondered if it wasn't time to back off Andrew a bit. Jack said he wanted Paul to continue to get any information he could find on the Gibson family, at least until Gibson accepted Jabot's financial offer without insisting on an admission of guilt. Carmen Mesta issued a press release apologizing on Jack's behalf for his behavior in dealing with Andrew, but she later saw Jack speaking directly with Gibson. Andrew dropped his lawsuit, but Ashley was worried that he would reopen it.
Paul managed to get hold of Andrew. Paul said that after a few drinks, Gibson opened up to him about Emma who had a daughter with another man. He told Paul that the kid caused tension in the marriage but for some reason it wasn't mentioned in the court papers. As Paul investigated Andrew, Paul discovered that Emma had a child by a former husband who was institutionalized with anaphylactic shock from a severe food allergy.
Relationships
Marriage
Children
Ad blocker interference detected!
Wikia is a free-to-use site that makes money from advertising. We have a modified experience for viewers using ad blockers

Wikia is not accessible if you've made further modifications. Remove the custom ad blocker rule(s) and the page will load as expected.